Buds Theatre In-house Series 3: Rewind/Reright
Start Date:
15 October 2016
End Date:
16 October 2016
Location:
The Playtent, 180 Joo Chiat Road, #02-01, Singapore 427451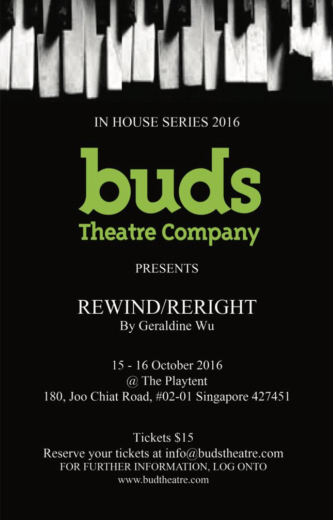 REWIND/RERIGHT
Written by Geraldine Wu
Directed by Claire Devine
Performed by Rebecca Lee, Adib Kosnan, Andrea Ang, Aisha Shaik
Synopsis
Clarisse is anorexic. Refusing to eat. Ignoring the advice of others. When she gets hospitalised and finally passes away, it is her sister Astrid who bears the scars. A play about the awfulness of anorexia and the mortal demise of one individual that impacts and leaves a family grieving for her loss.